Marina of the Year Awards 2019
2019 Winners
Large Winner – Port of Everett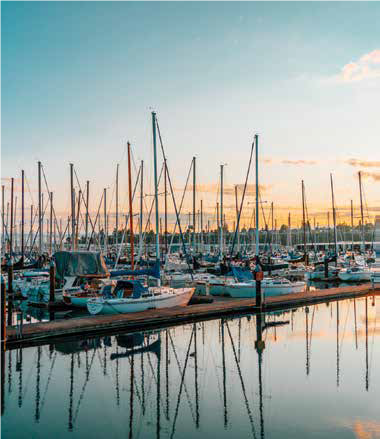 Port of Everett in Everett, Washington, is the largest marina on the West Coast with accommodations for 2,300 boats. The facility also has a 13-lane boat launch, upland storage, a boatyard housed in the "Craftsman District" of the port, fuel, laundry and shower. This past year the port added an activity float, guest dock and even a special dock for fishermen.
The facility is a major part of the community, and the port hosts or supports more than 50 waterfront events each year including a regular drive-in theater for boats. For outreach, port employees attend boat shows, conduct presentations to local groups and communicate with local clubs.
The facility also has a strong focus on customer service. The Port of Everett hosts a marina forum where select guests are asked to share what they are hearing on the docks and provide feedback.
The port continues to make improvements with a planned renovation of the docks for the next year, as well as the demolition of existing boathouses to make more room for an expansive side-tie dock. It also strives to make environmental improvements holding monthly education sessions for boaters, installing SeaBins to retain trash in the harbor, the jetty at the facility is a dedicated wildlife preserve and over the years, materials dredged from the basin have been used for upland remediation.
Small Winner – Plum Branch Yacht Club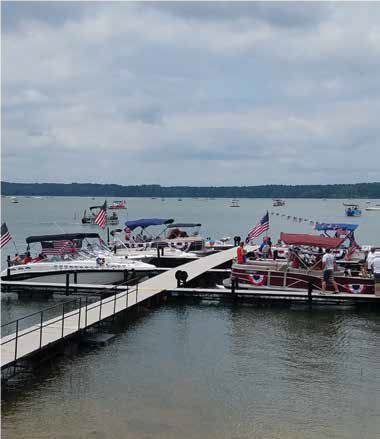 Situated on Lake Thurmond in Plum Branch, South Carolina, Plum Branch Yacht Club has been a U.S. Army Corps of Engineers concessionaire for 23 years. The facility has 147 slips, upland storage for 35 boats and 41 storage sheds. Amenities include fuel, a store, boat ramp, a restaurant and event area, and 64 campsites.
The yacht club has a history of supporting its community, a town with a population of just 79 people and surrounded by government-owned land. Early on the marina reached out to local churches offering the yacht club as a site for events and today churches hold Sunday services at the yacht club's pavilion. In addition, there are three concerts on-site each summer and numerous private events. Unique to the yacht club is its hosting of Clemson University's 4H2O summer camp that is held on-site each year to teach students about water quality and environmental issues and solutions. The marina was also the first certified Clean Marina in South Carolina.
To help recruit and retain quality employees, Plum Branch provides continuing education for its staff and has an incumbent worker training program. The owners have the goal to be self-funding, ensuring all profits are put back into the facility for expansions and renovations. The facility has a long history of renovations and constant improvement.
Additional Winners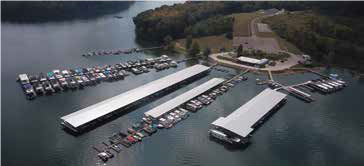 BUILDING AND GROWING AWARD
HOOSIER HILLS MARINA
Hoosier Hills Marina in Celestine, Indiana, conducted a major overhaul of its slips, rental operations and yard specifically cleaning up the property to improve the esthetics for customers. Docks were replaced and expanded, rental boats refurbished, ground fault protection was added, old abandoned boats were removed, upland buildings were refreshed and painted, equipment and  parking lots were repaired and refurbished. While the focus of the work was on infrastructure, Hoosier Hills also adopted a new logo, website, and social media accounts, all to better reflect the new and improved facility.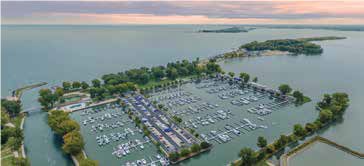 ENVIRONMENTAL STEWARDSHIP AWARD
BAY POINT RESORT
Bay Point Resort in Marblehead, Ohio,  became the state's first Platinum Certified Clean Marina, meeting the previous best
management requirements of the Clean Marina program, and also adding native planting throughout the marina, shrink wrap
recycling, and putting lids on all dumpsters. In addition, Bay Point uses bubblers to enhance water circulation, catch basins and
storm drains are cleaned routinely, and clean tips for boaters are posted throughout the marina. When the marina is dredged the materials removed are beneficially used on the property, and Bay Point Resort donated a 68-acre piece of land to the Western
Reserve Land Conservancy.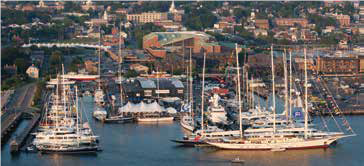 HOSPITALITY AWARD
NEWPORT SHIPYARD
Newport Shipyard of Newport, Rhode Island, caters predominantly to yacht captains and crew, providing many social events and organizing trips to nearby attractions and events. Going above and beyond to stay in contact with customers, the shipyard rents a house in Antigua in February to contact customers who spend the winter on the island. Newport Shipyard sponsors and sends representatives to the Wobbly Cup regatta, where all proceeds are donated to Antigua Barbuda Search and Rescue, and the St. Barth's Bucket. Understanding that customer service plays a major role in hospitality, all employees are trained using the Newport Shipyard REACH program that stands for Realize personal vs. material service; Exercise and build internal bridges; Ask and understand customer requirements; Capture and identify moments of truth; and Help target win-win outcomes.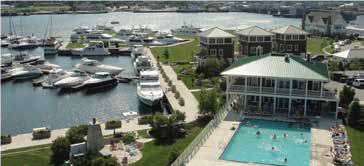 BUSINESS OPERATIONS AWARD
CENTERPOINTE
CenterPointe Yacht Services of Sturgeon Bay, Wisconsin, is a family-owned, full-service boatyard and marina that's main facility operates out of twelve buildings over a span of six city blocks. That makes coordinated business operations crucial. This business is divided into four departments across five locations: sales & brokerage, service, storage and slips. Employees include service administrators, warranty specialists,   estimators, foreman, general manager,  accountants, human resources, landscapers
and cleaners, harbormaster and marina and yard staff. Beyond its main location,  CenterPointe houses its headquarters and another boatyard in Milwaukie, a repair yard for small boats in Pewaukee and also provides dockside/mobile service throughout the state of Wisconsin and the shores of Lake Michigan down to Chicago. Even non-boaters can  access the facility as CenterPointe opened up a quarter mile of downtown waterfront in Sturgeon Bay to the public.